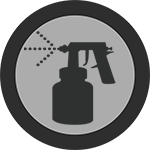 PRIMERS
RCP (Rust Control Primer) This is our Best primer. Choose this for direct to rust, maximum longevity and ease of use. 2500ML tin will cover most chassis. Just remove flaky rust and then use this. Also adheres to aluminium and sprays when warmed with our Body Gun, or thinned using RCP thinners. Use t-wash to apply to galv. brush, roller or spray.
Oxide-X This is a high quality Entry level primer, great for things like boot floors, or steel work where you want to protect it quickly. It is a very high build single pack so great for smoothing over imperfections. It is also a cheaper alternative to RCP. Dont buy it to go with CIO. CIO is a hybrid coating and is a higher spec product. Sort rust before you use this. Use t-wash to apply to galv. 3000ML for most chassis and axles. brush, roller or spray.
FCP (Fast Cure Primer) Our most versatile primer. Incredibly fast touch dry time in as little as 3 minutes, direct to rust, high solids, toughened glass flake, no need to top coat, abrasion resistant, sprays beautifully un-thinned in our body gun across a wide temperate range. Buzzweld FCP allow you to complete a thorough chassis treatment removing an entire day from a simialr RCP based kit. Also fantastic in a production environment.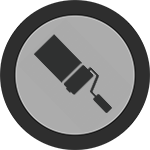 COATINGS
Chassis Gloss Grey & Black Are high quality high gloss coatings. They require a primer to be used, and work well with both RCP and Oxide-X. 2500ML is enough to do most chassis and axles. brush, roller or spray.
Hybrid Coatings
Chassis In One (CIO) Is a primer and top coat in one. Two coats, job done. Applies directly to rust, or aluminium. Very tough single pack coating with glass flake. Protection can be doubled up by using this with RCP primer. Do not use CIO with Oxide-X as a primer, CIO is more expensive and advanced. Sprays beautifully with our body gun. 2500ML is enough for most chassis and axles. Brush, roller or spray.
Buzzweld 2K X-treme. Very expensive and durable coating. When you require the absolute best we think money can buy choose this. Single coat, direct to rust, many metals, and concrete, incredibly tough, hard, and a nightmare to remove from whatever you get it on. Will chalk when exposed to strong UV light. available in 5000ML only which is suitable for most Chassis. use t-wash if applying to galv. Brush or roller only.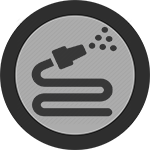 CAVITY
CCI400A Aerosol Highly advanced vapour release cavity wax with a higher viscosity (thicker) than 450, and brown. Dries to a touch dry finish. Great for exterior and chassis in reasonable condition. Comes in a 500ML aerosol. 600MM cavity lance available.
CCI450A Aerosol Highly advanced vapour release cavity wax. Clear/ transparent. Dries to a touch dry finish. Great for internal cavities (it doesn't like strong UV light for extended periods), but fantastic at using capillary action due to being thin with a low viscosity, so is good for chassis that have flaky rust inside and / or delaminated steel that cannot be removed.
CCI450 Tinned (1000ML) As above but comes in a cone top tin that can be decanted in to our body gun. Benefits are a more powerful delivery, almost half the cost of aerosol per ML, and a 900MM large bore lance with adjustable delivery through trigger.